Product Description
Yoesemitech's Y516-C online OIW sensor use the principle of ultraviolet fluorescence technique with high sensitivity. Compared with other methods, the fluorescence method is proven to be more efficient, fast and repeatable. which can be used to detect solubility and emulsification. It is suitable for oil field monitoring, industrial circulating water,condensate water, wastewater treatment, surface water station and many other water quality measurement scenes.

Product Features
RS - 485 output, Modbus protocol compatible;
With automatic cleaning wiper, eliminate influence of oil on the measurement;
Reduce contamination without interference by the light interference from the outside world;
Not affected by particles of suspended matter in water.
Product Size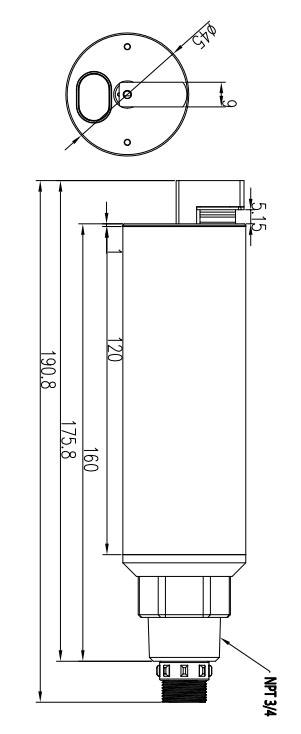 Product Parameters
| | |
| --- | --- |
| Name | OIW Sensor |
| Model | Y516-B |
| Principle | Ultraviolet fluorescence |
| Range | 0-50ppm |
| Detection limit | Determined by actual oil sample |
| Resolution | 0.01ppm |
| Linearity | R²>0.999 |
| Housing IP Rating | IP68 |
| Maximum pressure | 3bar |
| Temperature Range | 0 ~ 50℃ |
| Interface | Support RS-485,Modbus protocols |
| Power Requirements | DC 9~24V,current<50mA |
| Sensor Size | Φ45mm*190.8mm |
| Self-cleaning system | One-piece self-cleaning brush |
| Construction | 3/4 inch NPT,Drop-in installation |
| Probe cable length | 10m (default), customizable |
| Sensor material | Ti |
| Calibrate | Zero-point,one-point or two-points calibration |